Windows Phone event at MWC 2010 – live
Microsoft is currently hosting Windows Phone event at Mobile World Congress / Barcelona. ai.rs blog is on site and we will update this post live.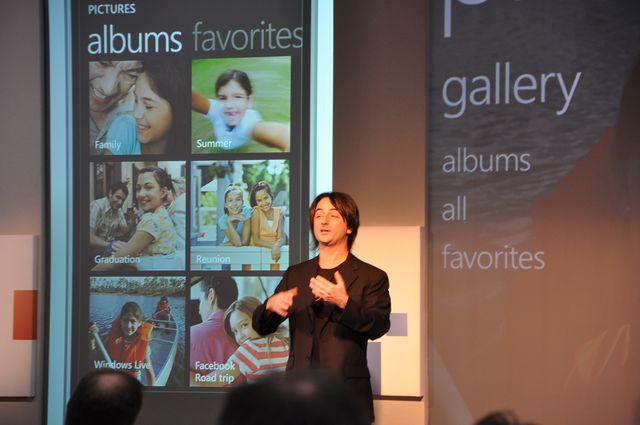 15:51 CET – Three fundamental principles: Accountability for user experience, New platform with deep integrated services, A strong ecosystem.
15:48 CET – A different kind of phone designed for Life in Motion.
15:47 CET – Windows Phone 7 movie shows. Wow, tells us that we are confused with number of apps and that we need to step over. Steve Balmer takes over.
15:45 CET – The demo will be available to see at Microsoft's boot at WMC. So the Windows Phone is usable already.
15:43 CET – The next is Games hub, featuring Xbox LIVE.
15:41 CET – Joe shows Zune desktop application. Content on the phone are accessible directly from the app.
15:39 CET – Music and Video part of the WM is next. Joe shows the music+video hub. Every WM phone will be a Zune, but go beyond.
15:38 CET – Office hub allows us to create notes in One Note, connect to SharePoint, and collaborate with people consisting with upcoming Office 2010.
15:36 CET – Pictures are present regardless of the way the got to the phone. Next is productivity.
15:34 CET – The next section is Pictures hub. UI is nice and clean, clear fonts, everything is in 2D, looks sleek.
15:31 CET – Joe shows the way WP will connect to People. People hub is the people-oriented UI section, integratiin all the available services (Outlook, Facebook, MSN). People hub is panoramic, can be panned to left and right. All the contacts are present trough People hub showing all the available info (Windows Live, Facebook status…)
15:29 CET – Outlook is great, e-mails available offline as well. Optimized for finger use. There are no scrollbars.
15:28 CET – Fonts are improved, 1/3 of the screen shows additional commands accessible via fingers. All the WP devices will have capacitive screens.
15:26 CET – The browser looks OK, Windows Phone 7 browser is based on desktop IE code, giving the compatibility. Crowd is confused, IE code ?
15:24 CET – The search button brings up Bing, showing the local relevant results (e.g. sushi bars are shown in Barcelona)
15:22 CET – Joe shows Bing maps, that changes the visualization, shows satellite photos when zoomed enough. Supports pinch-zoom. His demo device is not HD2!
15:20 CET – The calendar looks good, appbar showed as well. Users can access advanced commands trough appbar.
15:19 CET – The tiles are scrollable, and user customizable. Applications as well can be live tiles.
15:16 CET – All the devices will have 3 buttons, start, search and back. Joe shows live demo. Calls the icons – Live Tiles
15:14 CET – Joe – it is designed for Life in Motion with smart design and integrated experiences.
15:13 CET – Video is playing, UI looks great. Short but effective. Crowd cheers…
15:11 CET – Joe says all the phones started to look the same, Microsoft would like to focus to end user.
15:10 CET – Je Belfiore steps on the stage. The Vice President / Windwows Phone, starts to talk about the opportunity for change
15:09 CET – Steve Balmer steps on the stage, will talk about phones and next generation of Windows Phone series – 7.
15:07 CET – We just saw guys from Engadget, angle of the photos gave them away… Music is playing, nothing yet…
14:57 CET – The hotel lobby is leaking on our Sony Vaio P – just moved to another spot. Not good for start