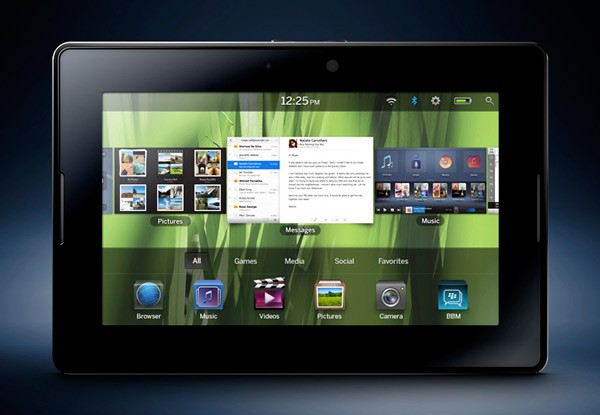 We almost missed this one, but couple of days ago, Canadian company Research In Motion (RIM) has announced its new tablet, called PlayBook. Promised to be game-changing product in growing tablet marketplace, PlayBook sports 1GHz dual-code processor, 7" capacitive screen with 1024×600 resolution, two cameras (front and rear facing) with 1080p recording support, HDMI output, rich web experience with Adobe Flash, Adobe AIR and HTML-5 support, and easy integration with your BlackBerry smartphone. Have we also mentioned true multitasking?

Full specifications for device:
• 7" LCD, 1024 x 600, WSVGA, capacitive touch screen with full multi-touch and gesture support
• BlackBerry Tablet OS with support for symmetric multiprocessing
• 1 GHz dual-core processor
• 1 GB RAM
• Dual HD cameras (3 MP front facing, 5 MP rear facing), supports 1080p HD video recording
• Video playback: 1080p HD Video, H.264, MPEG, DivX, WMV
• Audio playback: MP3, AAC, WMA
• HDMI video output
• Wi-Fi – 802.11 a/b/g/n
• Bluetooth 2.1 + EDR
• Connectors: microHDMI, microUSB, charging contacts
• Open, flexible application platform with support for WebKit/HTML-5, Adobe Flash Player 10.1, Adobe Mobile AIR, Adobe Reader, POSIX, OpenGL, Java
• Ultra thin and portable:
o Measures 5.1"x7.6"x0.4" (130mm x 193mm x 10mm)
o Weighs less than a pound (approximately 0.9 lb or 400g)
• Additional features and specifications of the BlackBerry PlayBook will be shared on or before the date this product is launched in retail outlets.
• RIM intends to also offer 3G and 4G models in the future.
Source: RIM's Press Release