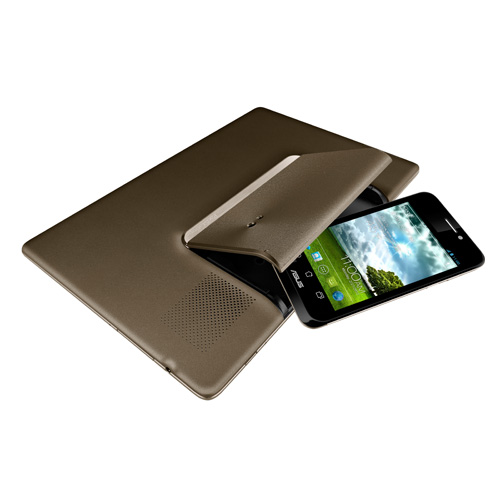 Asus PadFone at Mobile World Congress
During the Mobile World Congres 2012 in Barcelona, Asus have presented the new uber gadget called Asus PadFone.
We know Asus for ultra portable notebooks, great Android tablets (Asus Transformer with NVIDIA quad core CPU) but it looks that they have decided to go to smartphone market judging with this new Asus PadFone solution. What do you get in set? Beside the smartphone with respectable specification, nice screen size (4.3" qHD resolution 960×540) you get a tablet shell, so you can enjoy 10" screen and additional USB port, when you are at your home or work, just insert the phone inside the tablet. While inside tablet it charges phone battery. There is additional keyboard with additional battery for your tablet and smartphone. Smartphone hearth is run with dual core Snapdragon S4 CPU with Adreno 225 GPU and of course Android Ice Cream Sandwich OS. But what if your phone rings while it is in the tablet? Guess what, there is additional capacitive pen inside the package, and it has small speaker and microphone so it doubles as a handsfree! Welcome to the Asus future!