Motorola Devour is ready for launch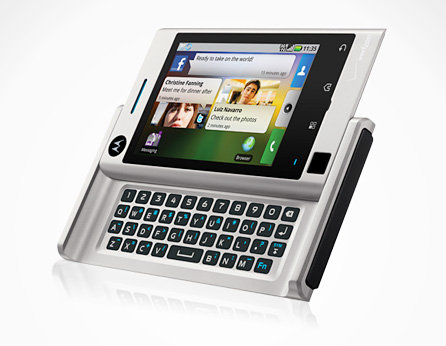 Motorola's new Android smartphone is ready to hit the streets in a few days. It will be available exclusively for Verizon Wireless, and it looks like it will have some rather interesting features. Most prominent of them is certainly slide-out four-row QWERTY keyboard with raised keys. We can only guess how comfortable it will be for prolonged typing, but having numeric keys in their separate row is pretty sweet. Also, there is in-browser support for Flash, and MOTOBLUR interface (aka Blur), with improved integration with social networks (you can simultaneously monitor updates from more than one network, and, also, simultaneously post on them). Lets not forget Google Maps navigation with turn-by-turn voice instructions, and Motorola Phone Portal, very interesting application for browsing your phone's content from your home computer via Wi-Fi.
Other than that, device is packed with Android 1.6, Qualcomm's 600MHz processor, HVGA screen, and 3MP camera.
You can watch demo of Devour, presented by Rick Osterloh from Motorola:
Source: Engadget