After Acer Liquid, we bring you review of another Acer's smartphone. This time, we've got our hands on Acer F1 (or neoTouch S200). It's a Snapdragon powered device, running on Windows Mobile 6.5.
Specifications:
Screen: 3.8" TFT-LCD resistive touchscreen, WVGA resolution (480×800), 262K colors support

Processor

: Qualcomm QSD (Snapdragon) 8250 1 GHz

Memory: 512MB ROM, 256MB RAM, expandable via microSD cards (up to 32GB)
Camera: 5MP, Auto Focus, LED flash
GSM: Quad-band GSM support, triband 3G with HSDPA and HSUPA
OS: Windows Mobile 6.5
Battery: 1350mAh Li-Ion, up to 5 hours of talk time, up to 400 hours of standby
Other: GPS receiver, accelerometer, light sensor, proximity sensor, FM radio with RDS, Wi-Fi, Bluetooth + Enhanced Data Rate, miniUSB, 3.5mm stereo audio jack
First impressions:
At first, we thought this is the same device as Acer Liquid we have reviewed earlier. They are both of similar size and shape, and pretty much look alike, like two twins (but dizygotic twins :-) ). Under the surface, story is quite different. Acer F1 sports 1 GHz version of the same processor as Liquid, and Windows Mobile is installed as OS.
Second impressions:
Screen is quite big, with vibrant colors and good level of brightness. As you may have noticed from device's specifications, it is resistive. But, we were pleasantly surprised with its precision and responsiveness when we used our fingers for input. It felt more precise than Acer Liquid, and this means less errors when using on-screen keyboard.
Processor is very fast, as you may have already guessed. It is clocked at 1 GHz, and ensures that all your applications will run smoothly, even when you run quite a few of them at the same time.
One major drawback of Acer F1 is its casing. We suggest getting one of the leather cases for F1, so you can protect it's back surface.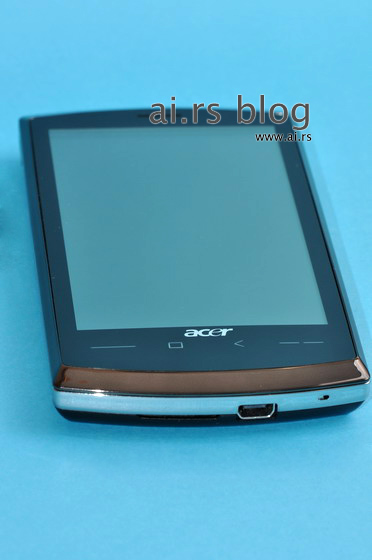 F1 is really similar to Liquid when it comes to design. There are four touch-sensitive navigation buttons below the screen, power (lock) button on the left side of the device and volume up and down and camera buttons on the right side. Navigation buttons have similar functions to those on Liquid. Left one is used as left menu button and to answer phone calls. Next one is for accessing home screen. Third one is back button, and last one is right menu button / call end button. But, four buttons used for locking, volume up and down, and camera are even smaller than those on Liquid, and harder to press. There is also 3.5 mm stereo audio jack on the top of the device (really convenient, as we have already said for Liquid), and mini USB connector on the bottom of the device. There are no plastic plugs on any of these connectors. We really like Acer's choice of connector types.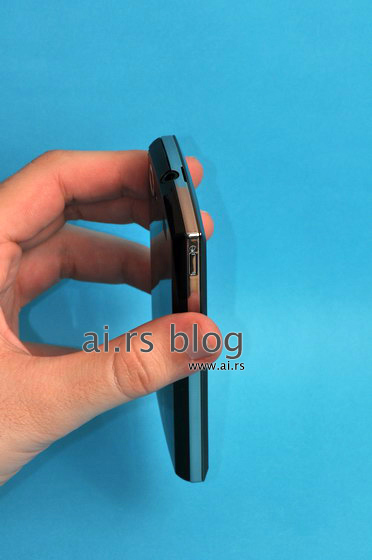 Telescopic stylus is placed on the top of the device. Since it is not really needed, we did not use it, but if that's how you use your Windows Mobile devices – it's there.
Battery is decent, like Liquid's. It will power up device for a day, maybe two, with moderate use.
MicroSD slot is placed under battery cover, forcing you to remove it before changing microSD card.
Camera produces okay pictures. Their quality is good enough for the social networking sites, or viewing on the device. Same as with other smartphones, don't expect miracles. Camera supports geo-tagging. However, there are two advantages over the camera used in Liquid: LED flash and software trigger for camera. LED flash, obviously, helps in poor light conditions. With software trigger, you can shoot pictures directly from device's screen, and on the Liquid you have to use hardware button, which is rather hard to operate.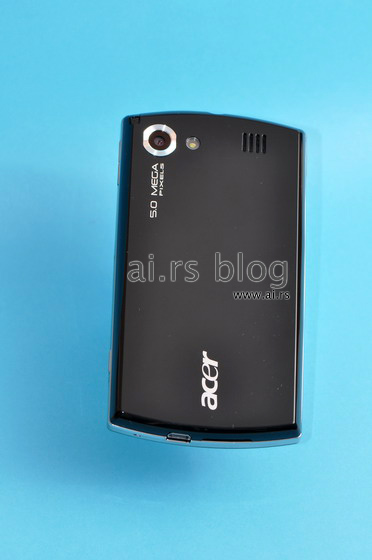 With F1, you only get basic version of Windows Mobile 6.5. We are getting used to various TouchWizzes, and Sense UIs, but if you choose F1 you will experience WM6.5 as it was meant to be. Acer provided custom home screen with 9 quick shortcuts (6 of which are customizable). At the bottom of this screen, there are three icons for locking screen, accessing list of installed programs, and for home screen customization. Really convenient if you prefer to use device with one hand. You do get Google Maps for navigation, Marketplace access application, YouTube browsing application, and application for Social Networks (Blogger, flickr, YouTube, Facebook). There are also minor customizations in calendar application. You can listen to FM radio with FM Tuner, and there is Office Mobile, with support for Word, Excel and PowerPoint.
Summary:
We (really) like:
Speed
Responsiveness
Precision
Connectivity
Presence of GPS receiver
How it fits our hand
We (really) don't like:
Glossy casing and thin stylus
Small software bundle
Small buttons
Verdict is: F1 is very fast, with ideal screen size for our taste. Those of you who are looking for less-expensive alternative to HTC HD2, and those who are in need for processing power and / or Windows Mobile 6.5 device, will certainly find this model very appealing. Basic version of WM 6.5, with little additional software is not bad, too. It only means that you'll have to spend a little more time customizing device to your own needs and likings.
[nggallery id=4]