About a month ago, Acer introduced its first smartphone running on Android operating system. Packing the snappy Snapdragon processor, and sporting very sleek look, it can make serious impact on Android-based phone market. Or can it? Lets start by taking a quick look at device's specifications.
Specifications:
Screen: 3.5" TFT-LCD capacitive touchscreen, WVGA resolution (480×800), 65K colors support

Processor

: Qualcomm QSD (Snapdragon) 8250 768 MHz

Memory: 512MB ROM, 256MB RAM, expandable via microSD cards (up to 32GB)
Camera: 5MP, Auto Focus
GSM: Quad-band GSM support, triband 3G with HSDPA
OS: Android 1.6 (Donut)
Battery: 1350mAh Li-Ion, up to 5 hours of talk time, up to 400 hours of standby
Other: GPS receiver, digital compass, accelerometer, Wi-Fi, Bluetooth + Enhanced Data Rate + A2DP, miniUSB, 3.5mm stereo audio jack
First impressions:
When we first saw Acer Liquid, we were simply amazed by its good looks. Black plastic case merges with the screen and navigation buttons to form one smooth, almost monolithic structure. When screen is off and ambient light is low, you can't visually separate screen from casing. Dazzling. There are only four buttons on the sides (power, camera, volume up and down), 3.5mm audio jack, and mini USB connector covered by plastic plug. This is one really good looking device. And then we have taken it in our hand and a small part of that good first impression vanished. It felt "plasticky" when touched, a little bit cheap for device of this price range. Then we turned it on, and played a little bit, and all we can say is that it is seriously fast and responsive.
Second impressions:
About a week later, we have thoroughly explored everything we were interested in on this device. We won't detail all gruesome stress-tests we put it through :-), but, we'll describe all we have found out.
Let's start with that infamous plastic casing. As we have said, it feels rather cheap when touched. Its slippery surface can be problematic to people with sweaty hands, because of device's curvy lines. But, overall, phone looks really great because of its casing, and surface doesn't attract fingerprints like some of its competition. That's really important, because, you won't need to clean it as much, even on black model.
Screen quality isn't top of the class, but you won't feel disappointed. It's very responsive and precise. You'll have little trouble with on-screen keyboard until you get used to it, and even after that if you type a little bit faster. That's because of its size and the fact that your must press keys directly. We suggest that you turn device in landscape mode, since keys are bigger in that mode. Sometimes, light sensor can go awry when light conditions are poor, and you'll want to turn off its control of the screen brightness. Sadly, there is no multi-touch.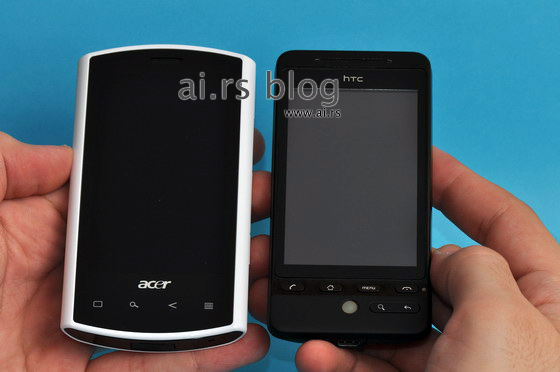 Navigation buttons are part of the case, and they are touch-sensitive. They light up when any of them is touched, and turn off after a couple of seconds. Nice, but it can be a little bit impractical. If you try to hit one of the buttons during the night, you'll need to be careful, or you will hit its neighbor. On the left side of device there is power button, and on the right side, there are volume up and down, and camera buttons. They are rather small, but still accessible. On top of the casing, there is 3.5 mm stereo audio jack (really practical), and three hidden indicators. These indicators only light up once there is incoming or missed call, unread message, or when battery is low or phone is charging. Again, really practical and beautiful. On bottom of the phone, there is mini USB connector covered with plastic plug. Thumb up for mini USB because of its convenience, and thumb down because of plastic plug. Plug feels like it will break off any second.
| | |
| --- | --- |
| | |
Battery is decent. With combined use, you can stretch full charge to up the two days.
MicroSD slot is a little bit inconveniently placed under the battery cover. But, that's not all. You'll need to remove the battery to access microSD slot. We suggest you to buy one microSD card with big capacity to avoid the trouble with switching cards.
Camera is usable during the day and almost worthless during the night, since it lacks any kind of flash. It supports geo-tagging, and makes pictures of decent quality. Good enough for everyday use. But, the part of taking pictures was what bothered us the most on. You have to press camera button with light press, and to hold it and wait for camera to auto focus. When auto focus rectangle on screen turns green, you have to press camera button harder. And, did we mention that all buttons on phone are rather small? Well, that fact only makes this procedure harder.
| | |
| --- | --- |
| | |
Currently, Acer Liquid comes with version 1.6 of Android operating system. There are plans by Acer to bring version 2.0 by the end of the March of current year, but we'll see what will come out of that. Good news is that current OS runs like mad on Snapdragon processor. All your commands are interpreted almost immediately; running multiple programs simultaneously is a breeze; and when one of the programs crashes, device continues to run smoothly. There are only three virtual desktops on Acer's build of current version of OS. If you are used to more, you'll notice that. If you are not, it will not bother you.
You only get basic software pack with Liquid. You get Gmail application, Google Maps for navigation, Google Talk for your instant messaging needs, and YouTube for browsing watching videos from YouTube. There is also urFooz, for your portable profile, and Documents To Go Free Viewer Edition (yes, that means you'll need to upgrade to edit Word / Excel / PowerPoint document on the device). Acer also included Acer Registration, Acer Settings (really speeds up some everyday tasks), Acer Sync, carousel widget for browsing your bookmarks, and nemoPlayer with its appropriate carousel widget. But, multimedia support is still pretty basic for Android device. You'll still have to convert your videos, and pack them either in 3GP or MP4 containers. Nothing much, but Android Market is packed with hundreds of free applications, and you'll fill this void really quickly.
Summary:
We (really) like:
Design
Speed
Responsiveness
Connectivity
GPS
Fingerprint repelling surface
How it fits our hand
We (really) don't like:
Build quality
Lack of LED flash
How it heats up during processor intensive tasks
Slippery cover (yes, we have sweaty hands ;-) )
This is excellent device, with one of the best designs we've seen in years. It is very responsive, fast and practical. But, it's flawed with poor build quality and lack of some features, like LED flash on camera. Still, we would definitely consider it if we are in the market, looking for new Android smartphone.