Hello. Starting with this post, we'll try to bring you reviews of some of the coolest gadgets on the market. Reviews will be just our two-cents on things we liked, and didn't like on these devices. Thank you for reading, and have fun.
In final quartal of last year, Samsung introduced new smartphone to the global market: Omnia Pro B7610. While it's not trend-setter, it will most certainly turn a lot of heads around. First, lets take a look at some of the device's specifications, just to know what we are dealing with.
Specifications:
Screen: AMOLED resistive touchscreen, 3.5" WVGA resolution (480×800), 16M colors (65K effective)
Processor: Samsung 800MHz with dedicated GFX accelerator
Memory: 256MB RAM, 2GB of internal storage, 512MB of user memory, expandable via microSD cards (up to 32GB)
Camera: 5MP, Auto Focus, LED flash, face recognition capabilities, panoramic mode, secondary camera lens for video calls
GSM: Quad-band GSM support and 3G with HSDPA
OS: Windows Mobile 6.5
UI: Samsung TouchWiz 2.0
Battery: 1500mAh Li-Ion, 3 hours of talk time, 200 hours of standby
Other: QUERTY keyboard, FM radio, GPS receiver with A-GPS, Wi-Fi, Bluetooth, microUSB, DivX player, TV-Out, 3.5mm stereo audio jack, Opera browser, NTSC video recording 720×[email protected]
First impressions:
When we first came in contact with Samsung Omnia Pro B7610, first thing we noticed is its excellent build quality. It is compact, sturdy, without wobbly parts, and made of quality plastic. Beautiful AMOLED screen simply dazes everyone with its vibrant colors. Battery cover changes its color from maroon to black, depending on lighting conditions. QWERTY keyboard slides out to the left without wobbling, and locks in place. Keys have rubbery feel when they are pressed, and you only need to press them lightly. Responsiveness of WM 6.5 is a little bit slow, and our finger's gestures are often interpreted wrongly, or not at all. Although it's compact, it feels a little bit chunky, especially when we compared it to HTC HD2. HD2 is bigger in size, but it feels lighter, even though they have similar weights.
Second impressions:
After we used B7610 for a few days, thoughts began to form. We'll start with keyboard. As we said, it is of excellent build quality, with a nice set of keys. But, it is composed of four rows of keys, and digit keys share the same row as QWERTY keys. This means that whenever you need to enter some number, you'll have to hold ALT key with one finger, and then press digit key(s) with another. This can become frustrating after a while. Also, those with delicate hands will appreciate this keyboard the most.
| | |
| --- | --- |
| | |
Battery cover is made of glossy plastic, and it's quite a fingerprint magnet. Because the screen shares this feature with cover, you'll need to carry some micro-fiber cloth to clean them from time to time, especially if you are concerned about devices' good looks (which is, as we have said earlier, stunning). Screen is not scratch resistant, and that means that you'll want to use fingers instead of stylus for navigation (stylus has standard, pointy plastic tip). This leads to more imprecise navigation.
Micro USB connector and 3.5mm stereo audio jack are covered with plastic plugs. Some will like this, some won't. Plugs cover connectors to keep dust out, and to give device its sleek appearance. But, they are the only external parts that feel wobbly when you move them. Strings that hold them feel like they will snap anytime you pull them a little bit harder.
Battery is really good. If you use device sporadically, it will last for a few days without problem.
If you own at least two microSD cards, or you need to switch cards occasionally, you may run into some trouble, because microSD slot is hidden underneath battery cover. This means that you have to remove battery cover in order to access the slot. It can be bothersome to someone, and not for others, because, most likely, you will need to do this only once in a while.
Camera is also really good. It produces pictures of excellent quality for this type of device. Accompanying software is simple to use, and rich in features, like panorama mode, or face recognition, or settings for LED flash, timed shoot etc.
Lock key is positioned on the right side of the device in its compact (closed) mode. It is used for quick locking and unlocking of the device. Main problem with screen locking is that screen will lock itself after 60 seconds of inactivity, and to use device again, you'll have to go through WM 6.5's gruesome procedure of unlocking device. This procedure consists of pressing the lock key, and then sliding really small padlock icon across the screen. And settings for changing this either don't exist, or they are very well hidden.
As we have said earlier, Windows Mobile 6.5 is included with the device. It will fly on the 800 MHz processor, or it will lag a lot, depending on power scheme you are using. But, if you compare its speed of execution to HTC HD2 with WM 6.5, you'll conclude that it's a little bit sluggish. Don't forget, HD2 is packed with 1 GHz Snapdragon processor.
To cover some of the flaws of the Windows Mobile platform, Samsung has included its own version of user interface, called TouchWiz 2.0. TouchWiz is a story for itself. It has three modes of operation. First of them is slight rendition of WM's programs screen. You can access this mode by pressing home key (central key, between answer key and cancel key). It doesn't have hexagonal positioning of icons like WM 6.5, but rather old-school, 3×4 visible icons per screen. You can switch screens by using horizontal slide gesture. Purpose of this mode is a little bit questionable, since you can still access its WM counterpart.
Second mode is so called Life mode. In a way, it is similar to previous mode, since you have three virtual screens you can switch with horizontal slide gesture. But, you can assign different wallpaper to each screen, and organize widgets you like on each of them. You have a lot of widgets to chose from, from weather module, via Facebook and Yahoo Finances, to calendar and Gmail one. This mode of operation felt really imprecise to us. We had trouble switching screens, and when we placed more than 2 or 3 widgets on one screen, it would become cluttered, and difficult to use.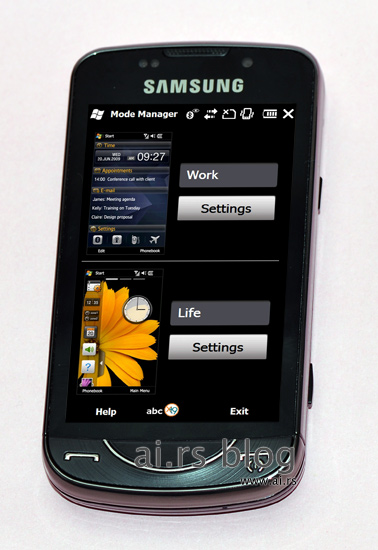 Third mode of operation is really pleasant surprise after previous two modes. It is called Work mode. To use it, you'll need to press W&L key on left side of device, and hold it for a few seconds. UI then begins to switch to other mode. Depending on your power scheme, switch will last at least 15 seconds. This can be a little frustrating if it is frequently used, but, since it's designed to be used once or twice a day, it will not bother you much. Work mode is organized as series of widgets aligned one below the other. You can customize placement of widgets, and remove those you don't like, or don't use at all. Then, you can use vertical drag gesture to cycle through widgets, and if one widget needs more space, you can scroll through its features by using horizontal drag gesture. Really simple, easy to use, fast and practical. One thing that left us puzzled is omission of weather widget, since it's displayed on Samsung's official site, but we can live without it.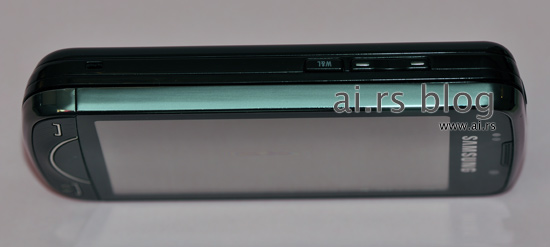 Device comes with lots of bundled software. For example, there is Office Mobile for all your Word / Excel / PowerPoint needs, PDF viewer, Video Editor, and DivX player. With DivX player, you can watch all your DivX and XviD movies, and you won't even need to re-encode them before you put them on device. But, there is no GPS software bundled with the device, not even a simple GPS positioning software.
Summary:
We (really) like:
Build quality
Inclusion and quality of keyboard
Vibrant screen colors
Battery life
Connectivity (Wi-Fi, Bluetooth, 3G, TV-Out)
Work mode
Bundled software (esp. DivX player)
GPS
We (really) don't like:
Responsiveness
Small keyboard
(Im)Precision of screen
"Fingerprint magnet" surface
Unlocking the screen
We liked this little fella. It is not built for everyone, and it will certainly not make a revolution on the smartphone market. But, if you are looking for pocket-sized, rich in features, and good looking smartphone, take this model into consideration.